Singer and lyrical master, Ed Sheeran does not mind sharing the spotlight on social media. In fact, he's on a mission to make his security guard Kevin Myers more famous than he is on Instagram. But it's obvious that Kevin posts so many funny photos and captions on social media, that he's bound to become Insta-famous with or without Ed. In fact, some fans believe he's even funnier than Ed himself.
The 1 Million Goal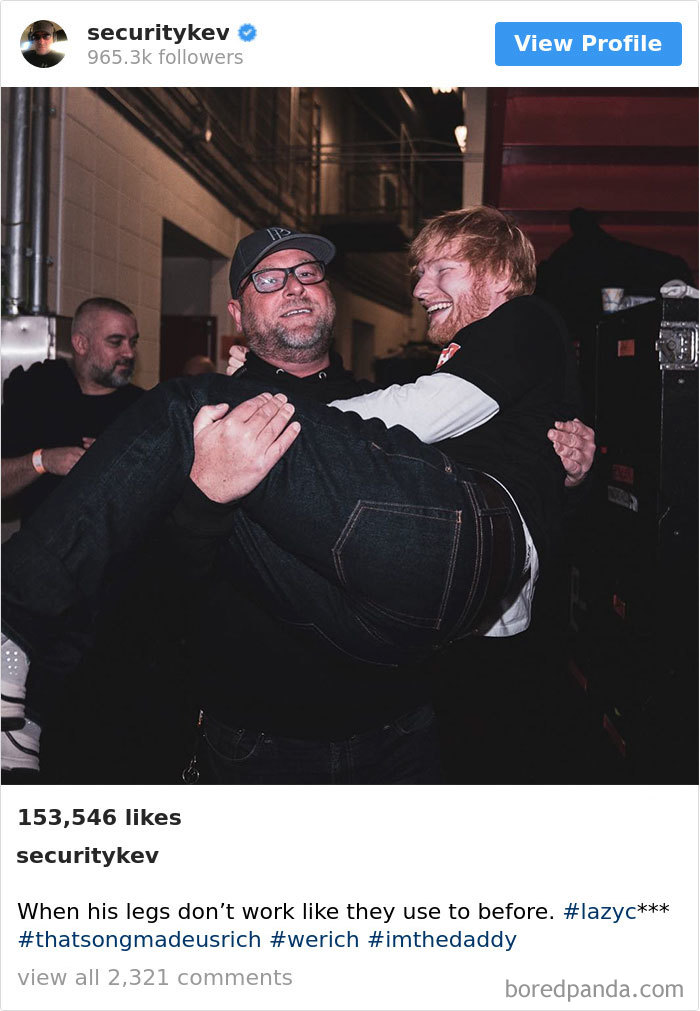 Ed Sheeran, who currently has 27.8 million followers on Instagram wants to do a solid for his security guard and homie, Kevin Myers. The singer wants to get him all the way to 1 million followers on Instagram, and he might not have to wait too long. Kevin already has 994k Instagram followers and counting, and it's all thanks to his rib-tickling Insta-posts that take bromance to the next level.
He's The PA To The Star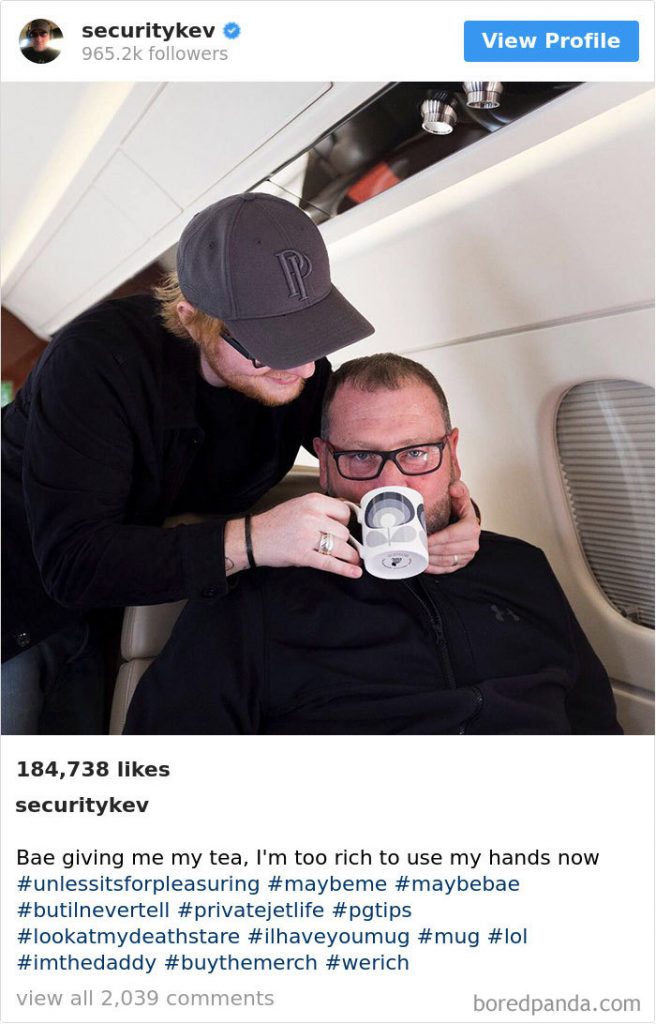 Kevin has proclaimed himself the PA to the star because he obviously has a very close relationship with Ed Sheeran. In fact, you could say that he has no boundaries with the red-headed music sensation. That explains why the singer is totally fine with Kevin calling him "bae" or take friendly jabs at him on social media without firing him. We wouldn't even be surprised if they spent hours binge-watching shows on Netflix every once in a while. So why would sharing a bunch of Instagram followers bother Ed, right?
Best Protector Ever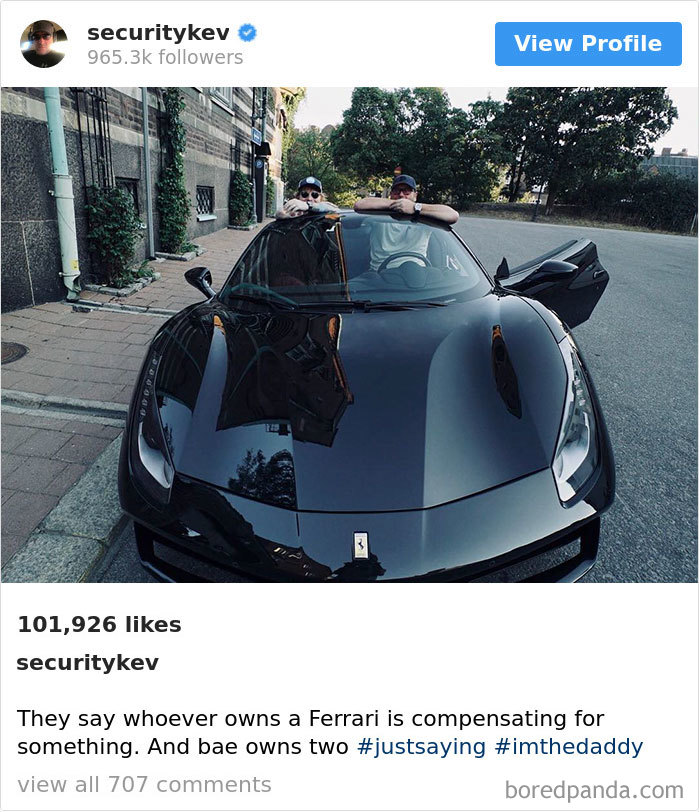 Ed hired Kevin, who's a security pro, to help keep the singer's adoring female fans at bay. Before Kevin, Ed's fans were getting a bit to grabby. They just pulled him towards them, and it was really starting to bug him that they just wouldn't ask politely. But now Ed has nothing to worry about with Kevin on the job. This guy is built, hairy, but all-around lovable.
They're Man Crushing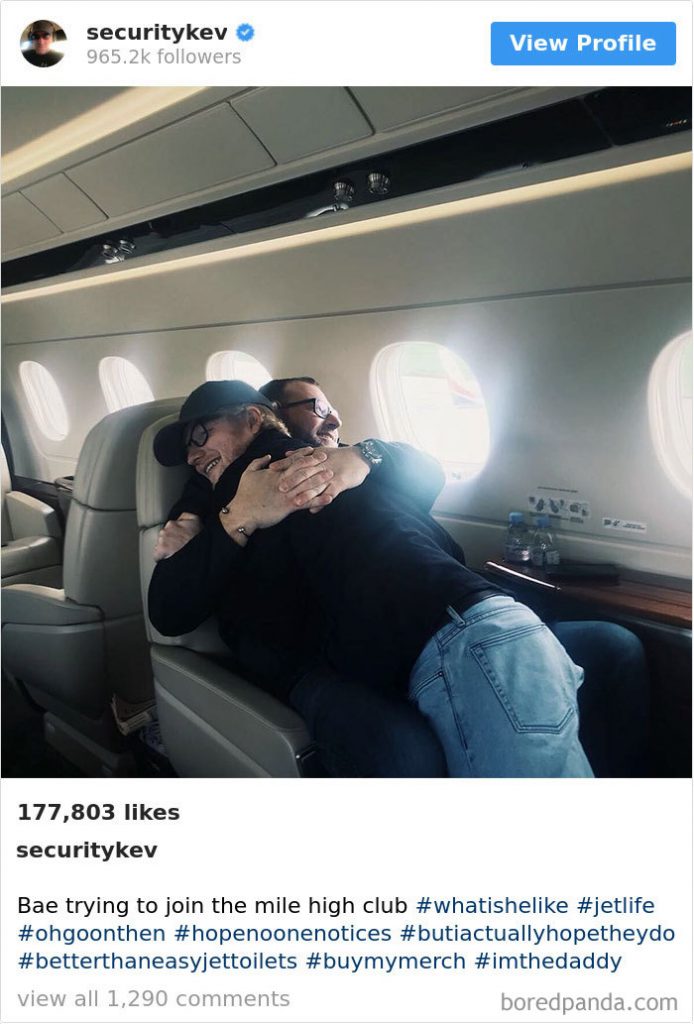 When you check out Kevin's Instagram, @securitykev, you'll notice he posts a ton of photos where he and Ed seem to be absolutely man crushing. There are moments when they're slicing a wedding cake together. Other times you might find them cuddling on a plane. They even recreated the posters from the 1992 film "The Bodyguard" starring Kevin Coster and Whitney Houston. Are they cute, or what?
Friend/Work Relationship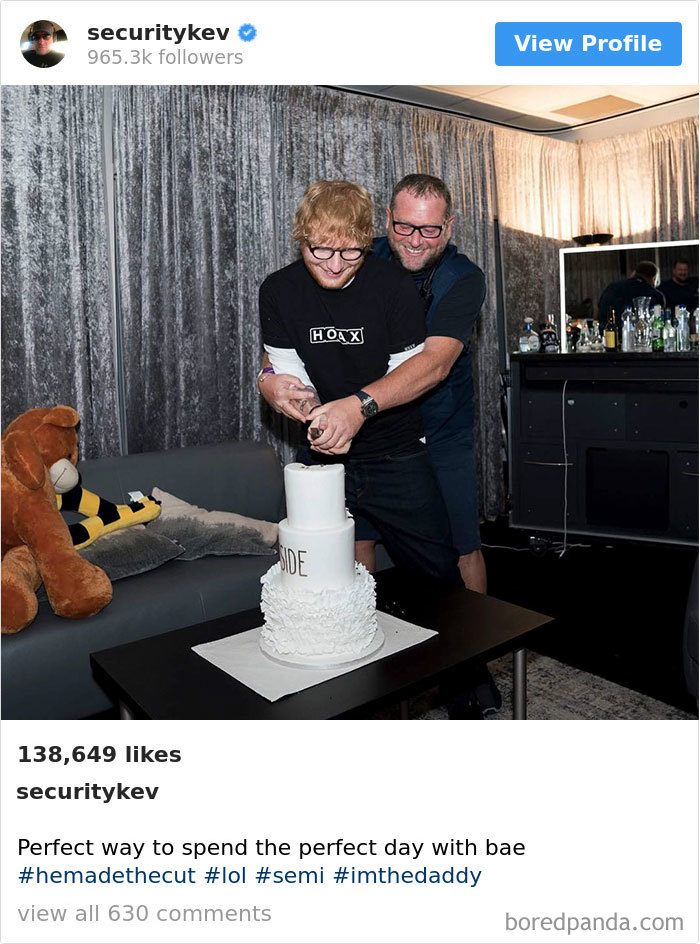 Imagine what it would be like to get paid to be someone's best friend/security guard? It sounds like a dream job to us. Bromances are always cute, but Ed and Kevin are really taking things to a whole new level. We personally love some of Kevin's hashtags like #imthedaddy or #sugarbear. The photos reflect the obvious connection these two seem to have. And if you ask them, they'd swear they're just friends. That doesn't mean their bromance can't last a lifetime.
He's Comfy With His Masculinity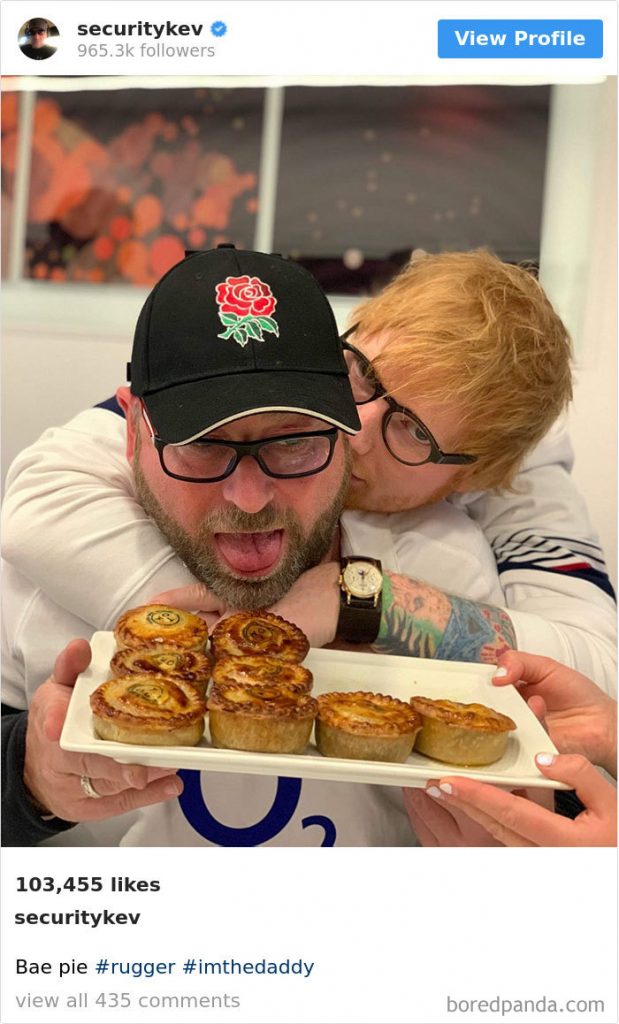 As a security guard, Kevin has to eye his "bae" like a snack to keep millions of adoring fans from bombarding him with autograph and selfie requests. If he couldn't do that, there wouldn't be enough cuddles in the world that could save his job. But what we like about Kevin is that he's not afraid to joke around and that's a rare trait with all the fragile masculinity going on these days.
Plugging Kev's Page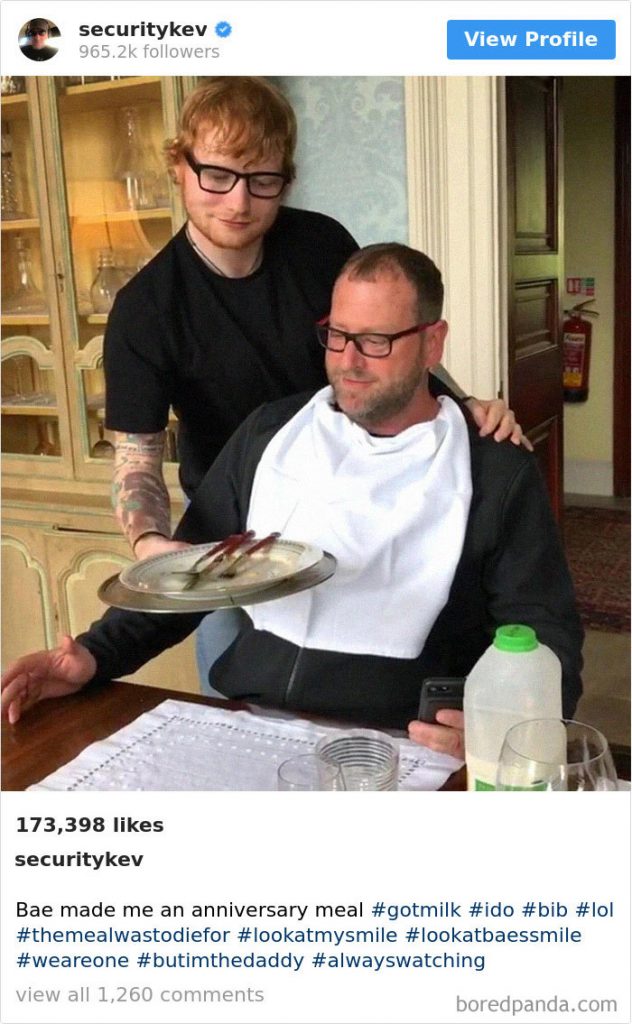 Ed has spent the last couple of months plugging Kevin's Instagram page to turn his security guard into a social media influencer. We doubt either of them will have to wait very long for Kevin to reach the 1 million mark on Instagram. But they'll probably have to continue sharing their level of PDA with their fans in order to hit their goal.
Serial tea drinker. Professional wig snatcher. Content creator and video script writer who may or may not be John Leguizamo's body double. If you don't like where you are, move. You're not a tree.