Remember those hilarious photos you took with your siblings when you were little? You know, the ones that your parents keep talking about even though you're all grown up and have kids of your own? Well, these siblings decided to recreate their childhood photos, and the results will have you rolling on the floor laughing. Some are a bit cringy, and others might make you spit your morning coffee. You've been warned!
Riding With Siblings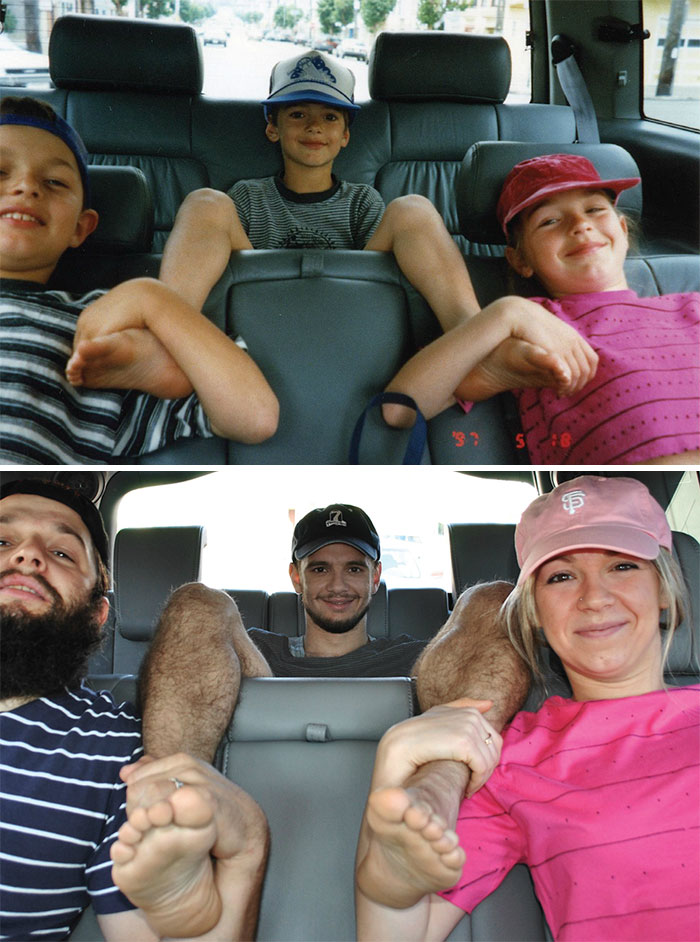 We're amused by families coming together to be silly with one another like these three siblings did. They haven't changed a lot, except for the boy's legs in the middle, which are hairier and a lot longer. The guy on the left has a scruffy beard too. Meanwhile, the sister still has a thing for pink clothes and a totally adorable smile too.
Bathtub Fun
This childhood recreation snap captures a time when two brothers and two cousins used to spend their afternoons in a tub, talking about cars, battleships, and video games. Not much has changed, really! Well, except for the fact that they've all turned into some hunky studs! Well, that, and the fact that they wouldn't be down for sharing a bathtub anymore, right?
A Bunch Of Dirty Boys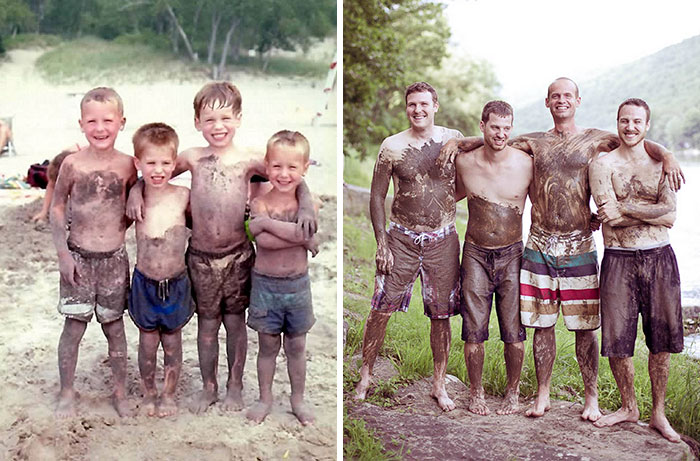 Look at the proud grins in the before pic! These kids loved playing in the dirt and mud. It's nice to see that these boys haven't changed one bit, not even after 20+ years. They've still got those big old mischievous smiles, too. This recreation is so inspiring. It makes us want to do a goofy photo recreation at some point.
Siblings In The Tub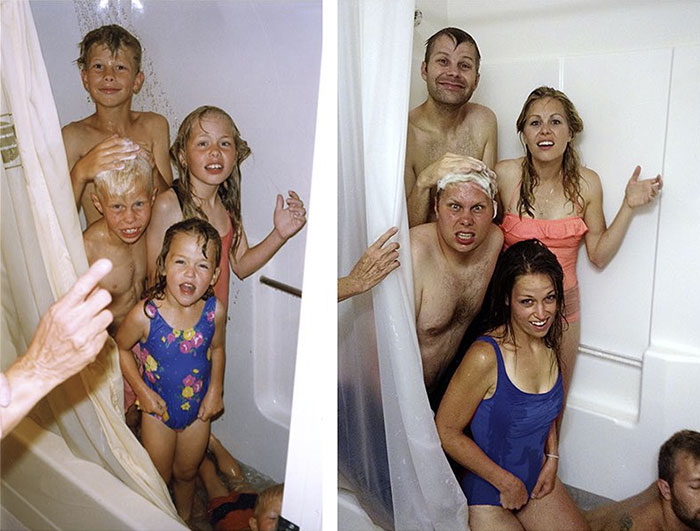 Siblings who love each other, shower together even after they grow up. This family recreated the before pic carefully; from the brother who was getting his hair shampooed to the fifth sibling who's laying in the bottom right corner with his eyes closed. We'll bet he's used to that being the youngest kid in the family. This recreation is just awesome!
Having a Blast In The Park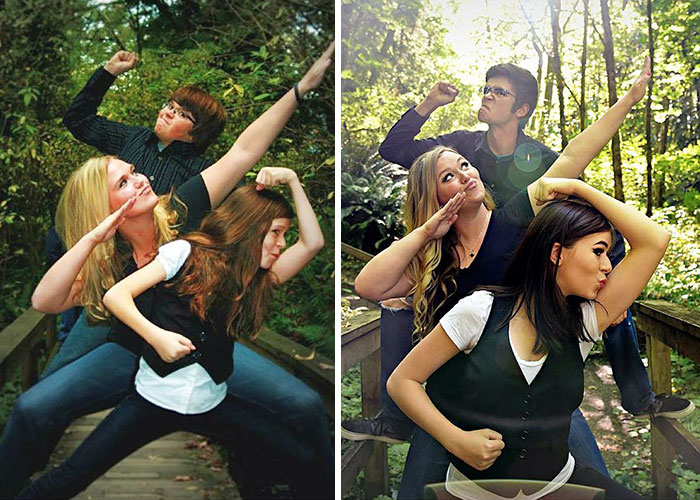 Eight years later, and these siblings still know how to have fun! Imagine how many shots they must've taken just to nail their photo recreation this hard? They went to great lengths to recreate their oriignal outfits too, and it turned out even better than the original!
Good Genes In This Family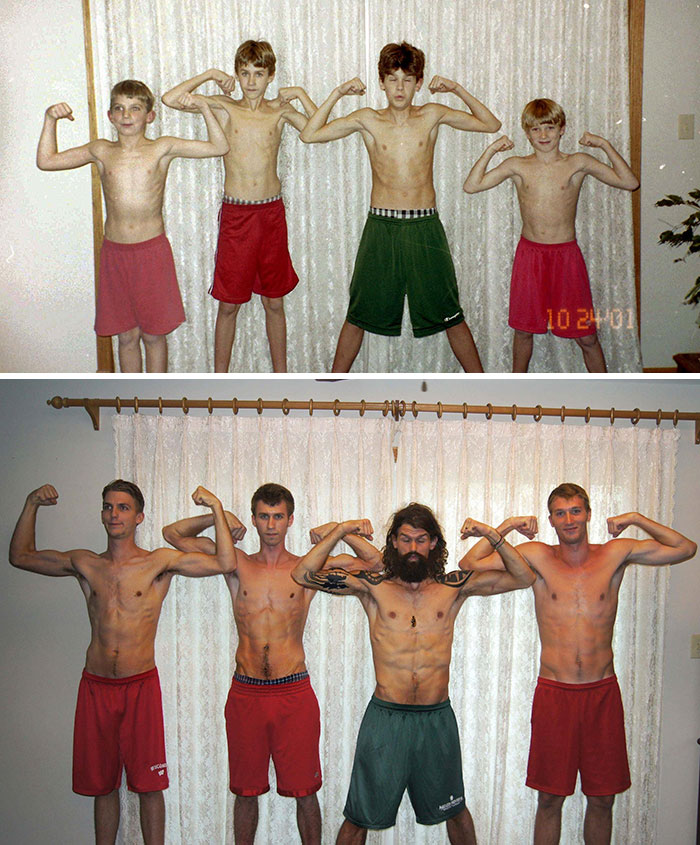 As kids, these four brothers wanted to show the world that they were destined to be fit for life. Years later, they proved that they could rock some serious six packs! They're the full package now! These siblings must have some great fat-burning genes running through their veins, and we're kind of jealous, to be honest!
They Recreated The Same Photo 18 Years Later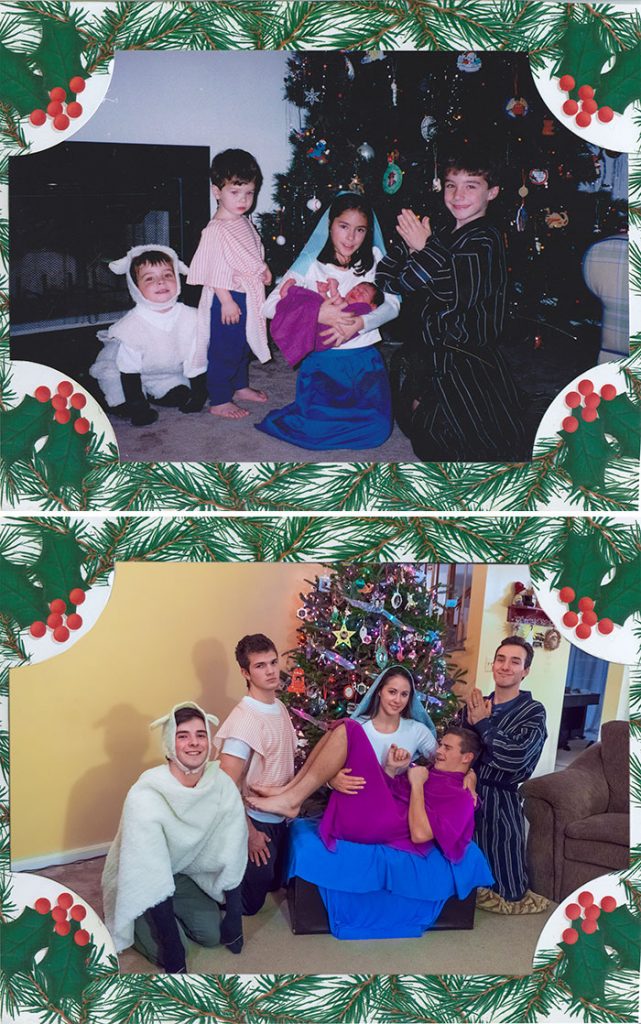 Redditor u/WheatSheepOre shared a glorious childhood Christmas photo that might actually make you laugh out loud. Not only are they all a good looking bunch, but Mary, in particular, is looking seriously gorgeous! She certainly puts the "holy" in "Holy mother of God!"
Slightly Awkward, But Oh-So-Funny!
Eleven years later, and a lot of things have changed! Well, except for the guy in the middle who seems to still be into putting fries up his nostrils! We're kind of hoping he's just doing it for the shot!
Love You, Bro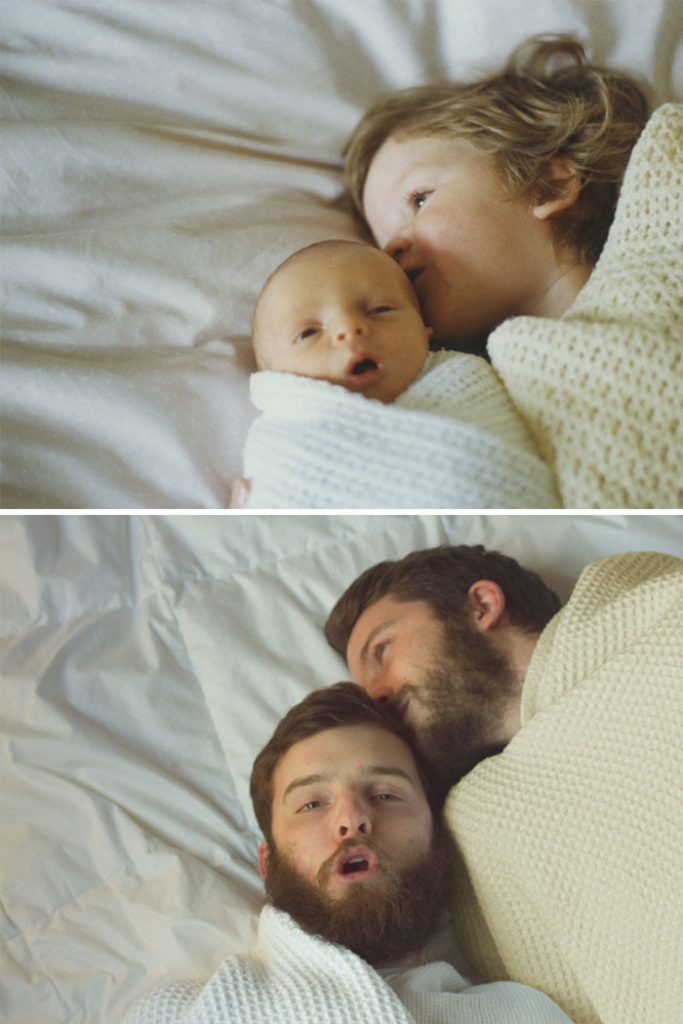 In the top photo, the older brother gave his baby brother a kiss on the head. The photo was recreated perfectly years later. One of the best parts of these pics is the attempt to recreate the baby looks on their adult faces. It's not as easy as it looks! We love how in the bottom photo, the younger brother even recreated the shape of his mouth from the top photo. But you can tell the older brother is having a tough time not laughing through the whole thing. But it's still really cute, though!
Serial tea drinker. Professional wig snatcher. Content creator and video script writer who may or may not be John Leguizamo's body double. If you don't like where you are, move. You're not a tree.