Beauty fades, but tattoos are forever, which is why you need to pick one that you can live with for the rest of your life. To that end, we present you with some of the coolest 3D tattoos for inspiration. The optical illusions in these skin masterpieces are simply amazing. They're so astonishing you'll want to touch them to make sure they're not real. So, check out this list of designs and prepare to have your mind blown.
Tag You're It!
Show the world how truly fantastic you are with one of these 3D tattoo tags. You'll have everyone fooled into thinking you're 100% uniquely fabricated, which you are in a way! But make sure your mom doesn't confuse you for an article of clothing on laundry day and accidentally throw you in the washer.
A True Work of Art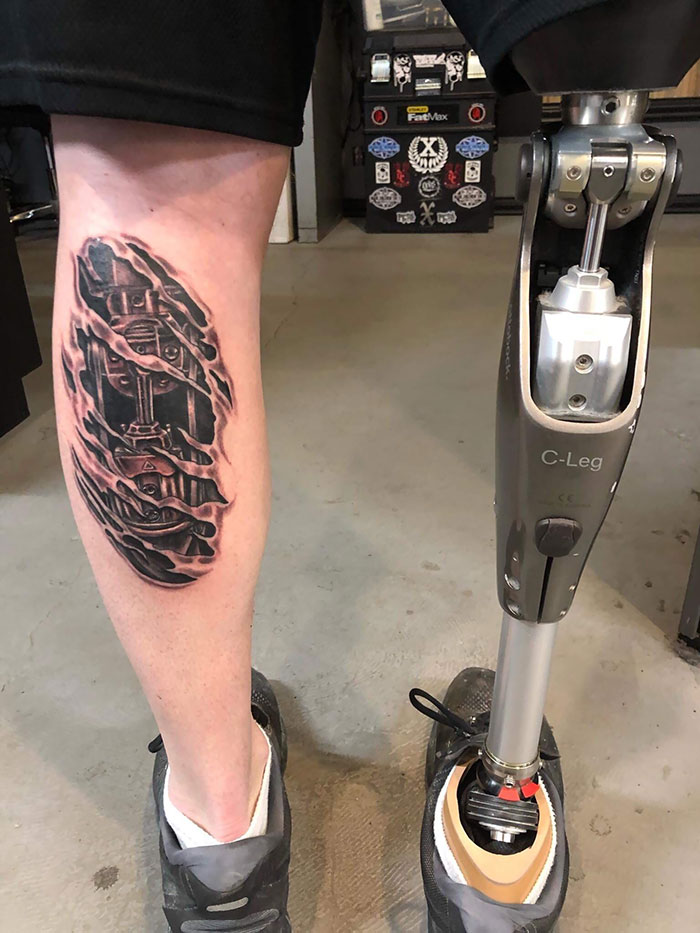 This stunning masterpiece is perfect for this Redditor who's 100% pure machine! Not only does it look totally sick, but the 3d tat looks so realistic, it kind of makes you want to touch it to see if it's only ink!
Mind-Bending Illusion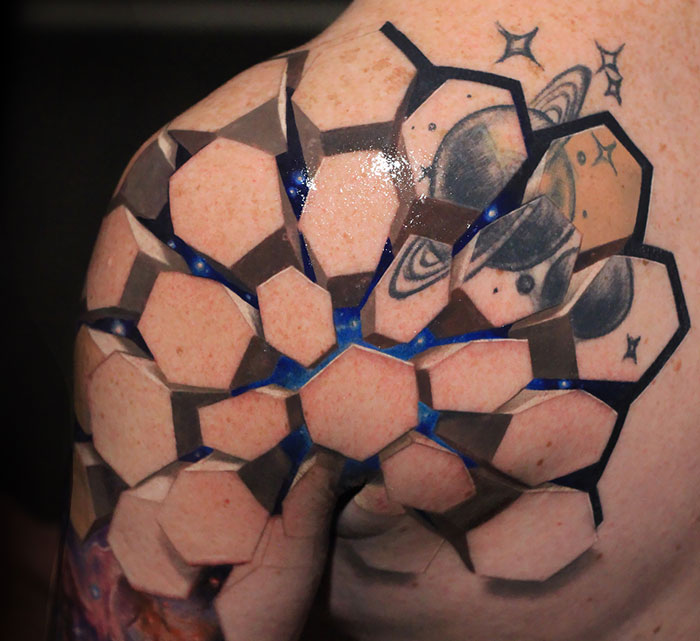 You've probably seen your fair share of tattoos, but this one is unlike anything we've ever seen before. This magnificent optical illusion seems to be covering an old tattoo. It was created by tattoo artist, Jesse Rix, from Keene, New Hampshire, and we've got to give it to him! This tattoo is giving us a solid dose of ink inspiration!
Shattered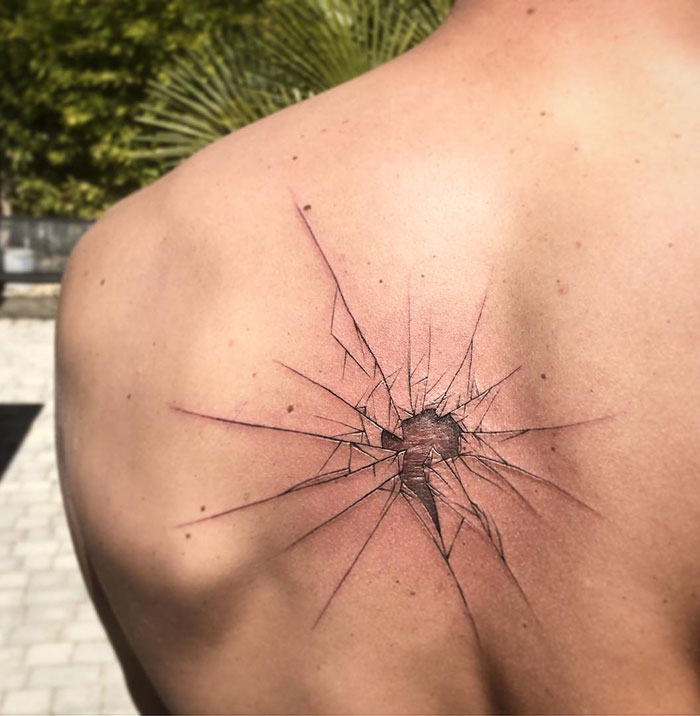 This shattered glass tattoo would be a perfect scar cover-up. It's so simplistic and yet so beautiful. We can't help but stare in awe! It's as if someone took a hammer to your soul and cracked it just a bit to see what's underneath the skin. Can you imagine all the double takes people would be doing if you sported one of these when you're walking shirtless at the beach?
Feeling Blocked?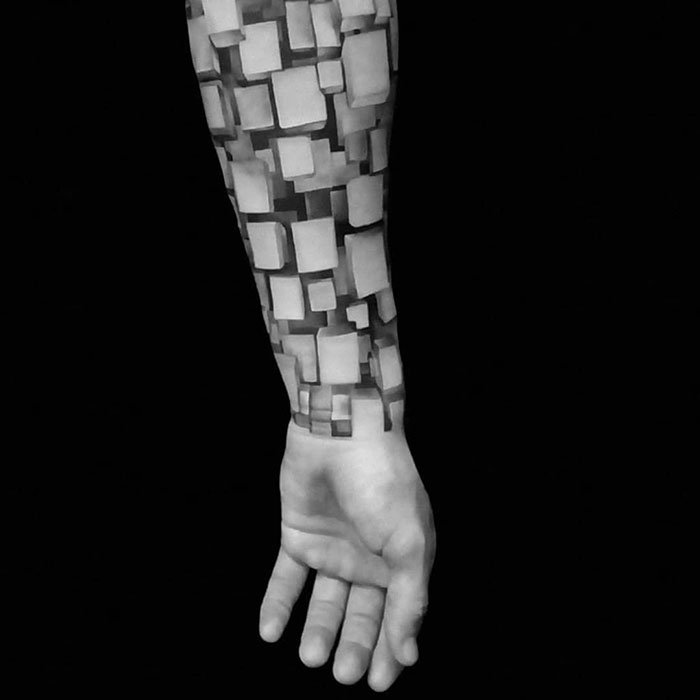 This realistic tattoo filled with 3D blocks is too impressive for words. People will take one look at your arm and wonder if there's a glitch in the Matrix. It takes a lot of skill to do this type of skin art that's undeniably breathtaking. It's eye-catching, surreal and mind-wrenching all at the same time.
Go Full-On Terminator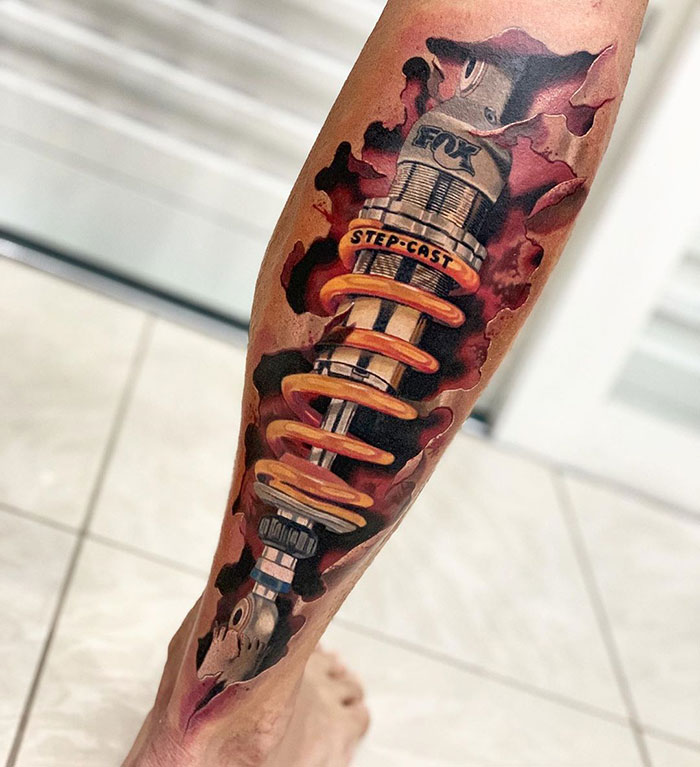 This tattoo is perfect for anyone interested in looking like a cyborg but can't afford a bionic makeover. The attention to detail is so spot on, you could probably walk onto the set of the next Terminator movie and work as Schwarzenegger's stand-in. But this tat took 2 sessions totally 12 hours to get this cybernetic masterpiece done, so clear your calendar before committing to it.
Queen of the Hive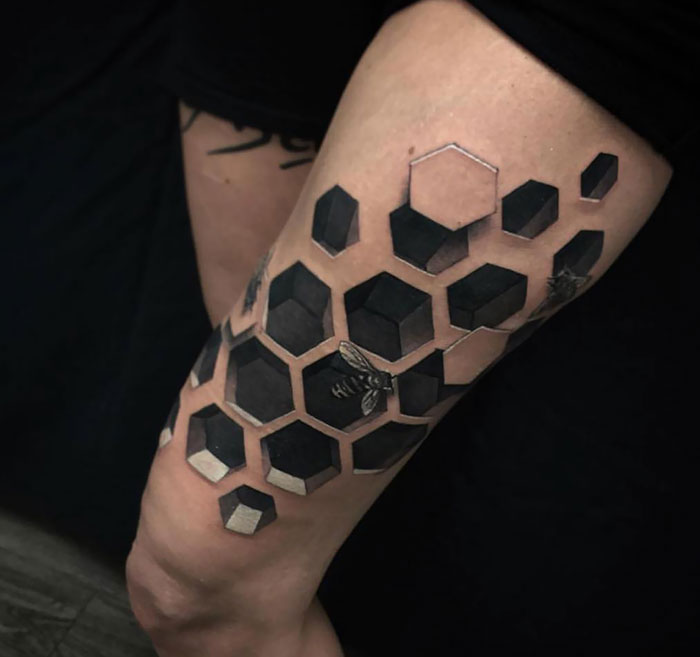 Here's another fabulous creation by Jesse Rix. Some people might gawk at this tat, but we absolutely love it. It's a 3D rendering of a honeycomb on a client's leg. It even has a couple of bees flying out of the hive. This is the perfect tat for people who'd want to show the world who Queen Bee is.
Mesmerizing Creation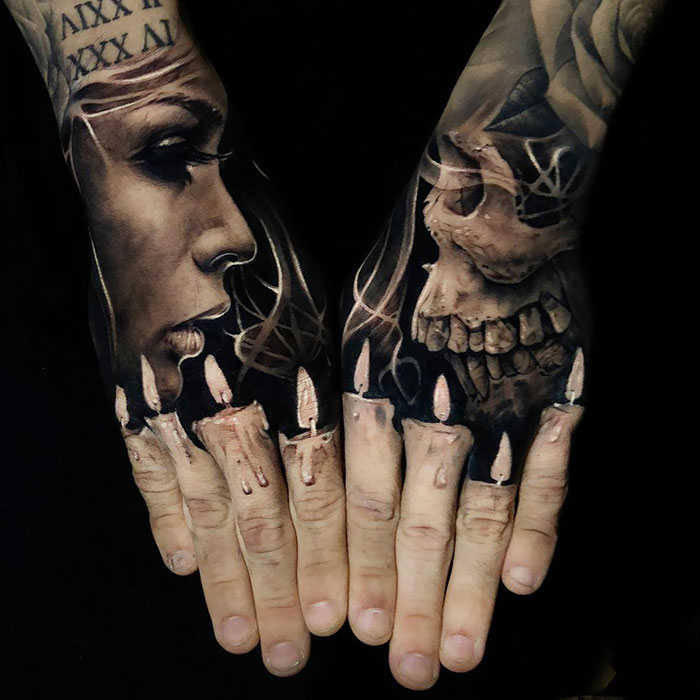 Here's a tattoo that might make you want to drop everything you're doing and book an appointment at your local tattoo shop. And while all tattoo artists have different sources of inspiration and styles, you've got to admit that there are a few of them who are not afraid to push this art form to insane new limits! Bournemouth and Manchester-based tattoo god, Jak Connolly is a total ink master, and this design proves it! We haven't seen such a spectacular work of art in ages!
The Wormhole Tattoo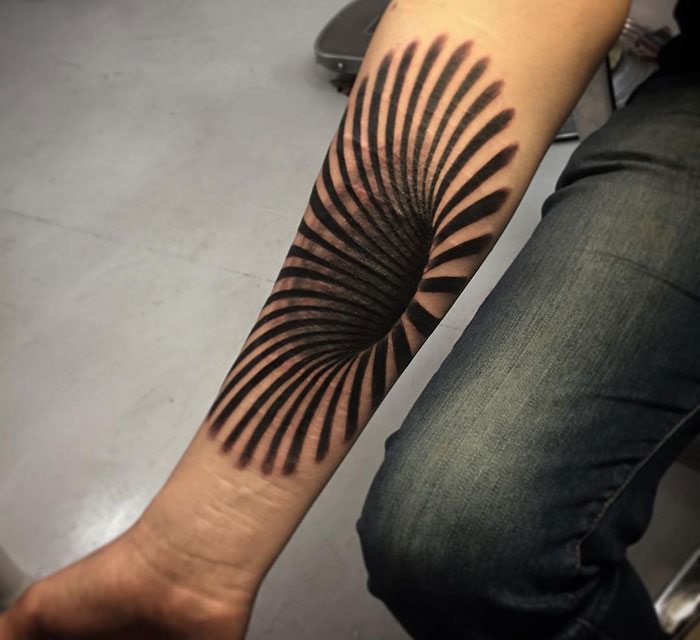 Have you ever wanted to sport your very own personal wormhole? Well, you can get this tattooed in your arm and get the closest thing! Everyone will be losing their minds! But you better warn them not to get too close or they might fall right into the abyss and end up thousands of light years away from home.
Woman Trapped in a Man's Body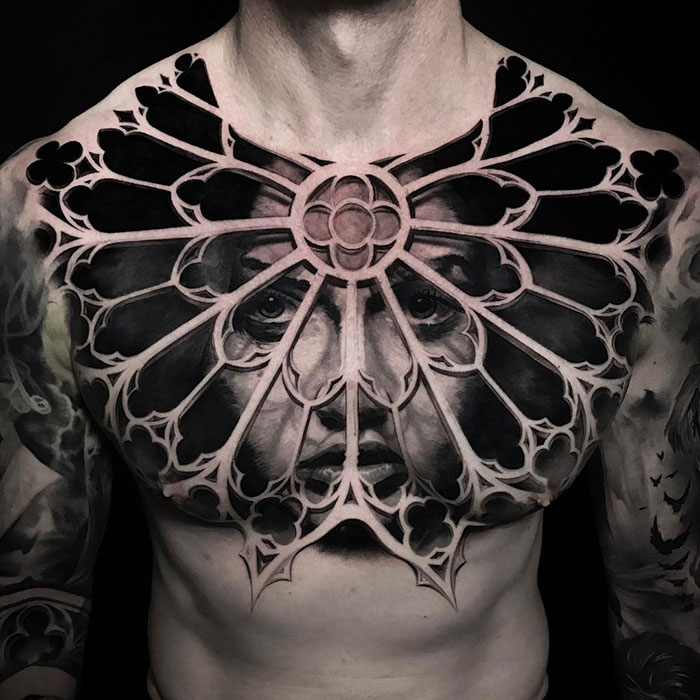 It looks like a woman trapped inside of this man's body. The design is both creepy and thought-provoking. This must have taken days to complete. Just look at the definition and the various shades! It's so realistic. This is some great artwork that also compliments the body of whoever chose to get this inked on their chest. Ben Thomas, from Melbourne, Australia, is the guy who crafted this wonderful creation. Clearly, he's got more talent in his pinky finger than most of us!
Serial tea drinker. Professional wig snatcher. Content creator and video script writer who may or may not be John Leguizamo's body double. If you don't like where you are, move. You're not a tree.