If you're looking for a low-cost cosplay costume or you just want to poke fun at a famous celebrity, then you should seriously consider studying 9-year-old Australian Riley's Instagram. This girl is amazing! She has recreated some of the most insane celebrity looks using stuff she found around the house. Some of these looks are great and super adorable, too. Not only are her outfits spot on, but her facial expressions are perfect, too! Seriously, why are kids so creative these days? This is insanely accurate!
That's Boxed Up!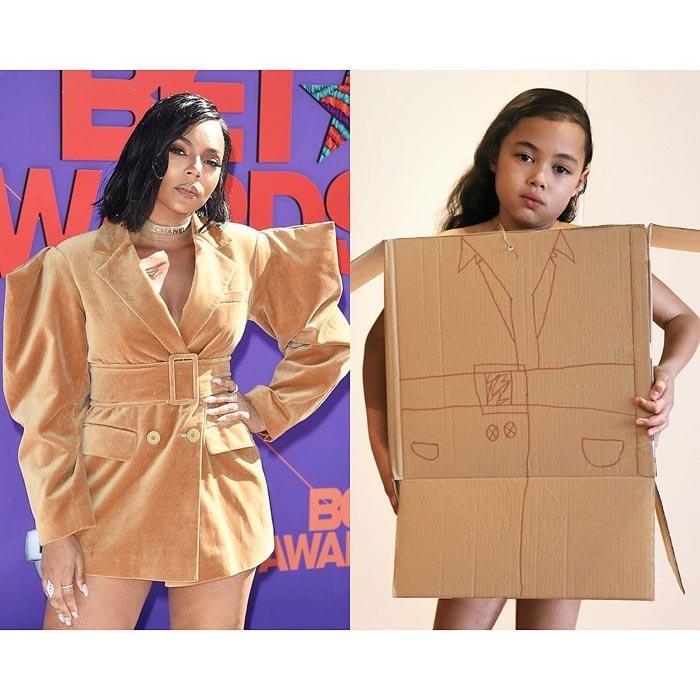 Ashanti might be looking all nice and chic in her robe-like dress and Chanel necklace, but Riley's just proven you don't need to spend tons on a dress to look red carpet worthy. Sometimes, a cardboard box will do just fine.
Bag on Her Face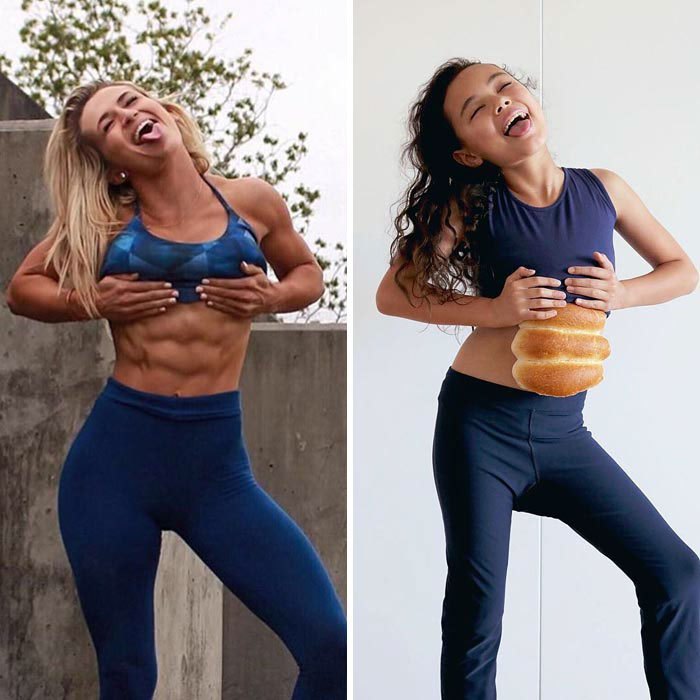 As far as models go, Vanessa Moe is way too pretty to put a bag over her face, but she probably had to do something outrageous like that on the runway. Fortunately, Riley didn't need much to recreate this fun look. But using a loaf of bread to imitate Moe's abs is truly genius!
The Aluminum Dress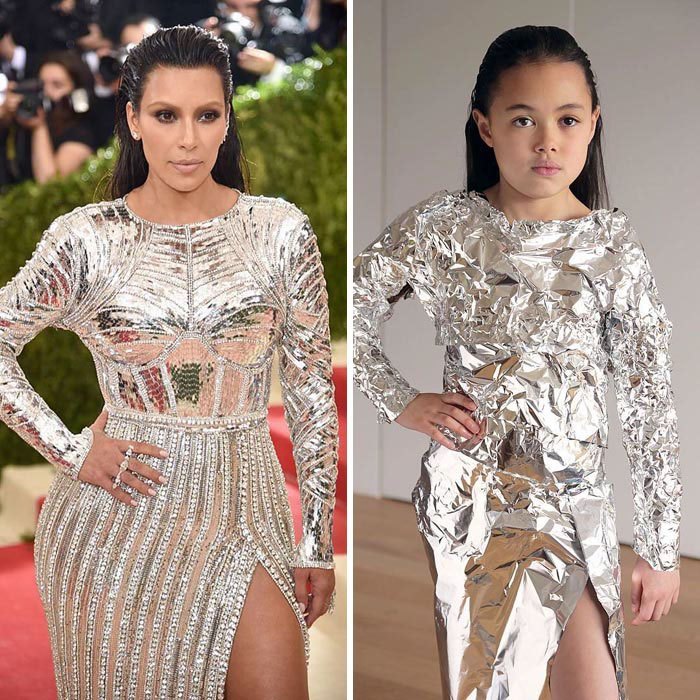 Kim Kardashian looked like a warrior in armor in that shiny metallic gown that was to die for. But Riley wore it a whole lot better and she didn't have to spend thousands on her outfit. She just needed lots and lots of aluminum foil. They say that imitation is the best form of flattery, so hopefully, Kim will find this 9-year-old as amusing as we did.
Lil Princess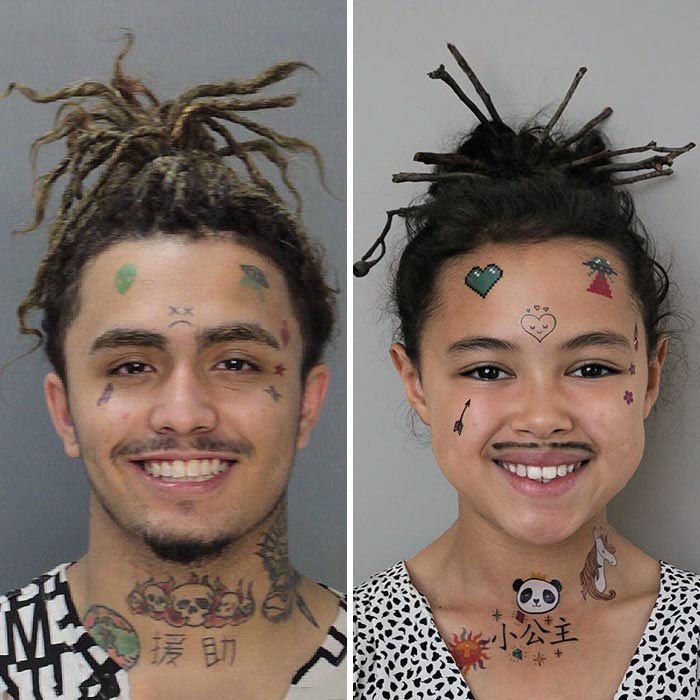 Riley put actual sticks in her hair to mimic American rapper Lil Pump. She even gave herself a mustache, so give us a minute while we catch our breath from laughing so hard. But she got super creative with her tats and used a panda instead of a skull, and the Chinese words under the bear says "little princess."
Riri Wannabe Slays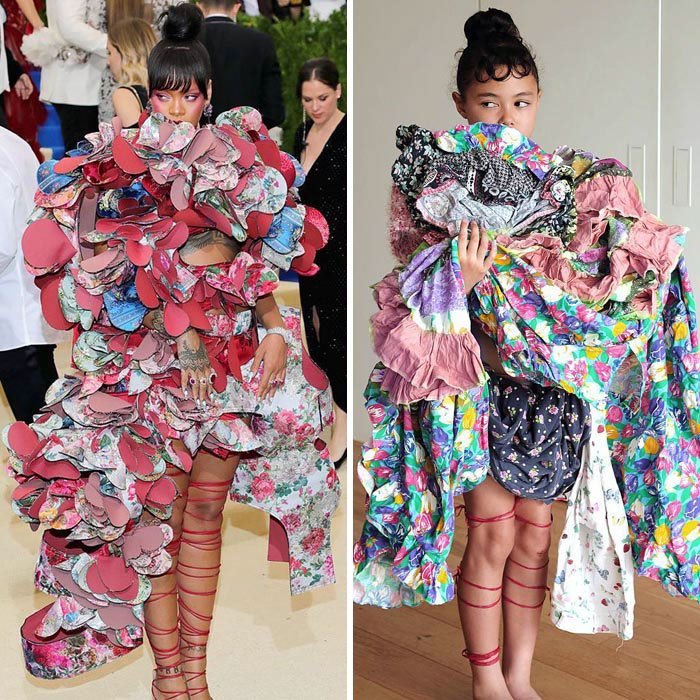 Rihanna slayed at the 2017 MET gala wearing this gown, which was a homage to Comme des Garçons and Rei Kawakubo. But Riley proved you can recreate Riri's look simply by holding a bunch of multi-colored clothes and giving a fierce side-eye glare. We wonder if anyone would notice she's not actually wearing haute couture if Riley would get invited to a red carpet event?
Riley Does Riri Again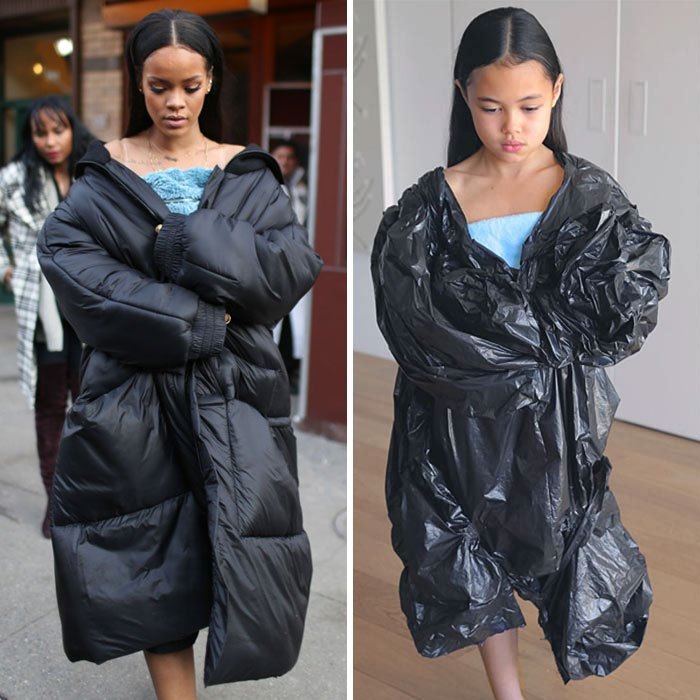 This is one trashy look that we can totally get on board with! Riley used a big black trash bag to recreate Rihanna's big winter coat look. She even has on a blue dress underneath and only one leg showing just like the photo on the left. Does anyone think this girl did this look by herself? If she did then she's a genius!
Fashion Out of Anything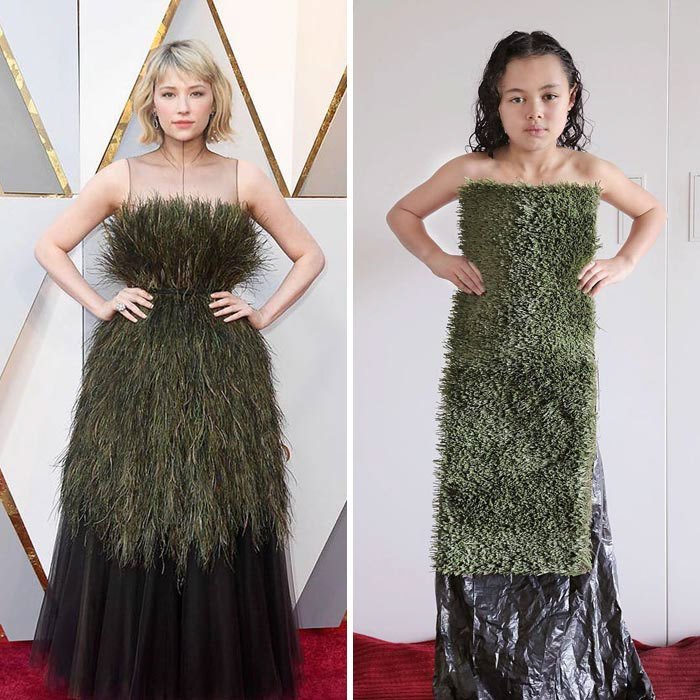 Actress Haley Bennett looked like she borrowed a patch of grass from Mother Nature and Riley decided to make fun of it. Who could blame her? The black dress underneath was made with a black trash bag. And as for the top, it looks like some sort of moss carpet, and if we're being honest, Riley wore it better.
The Mummy Look Is In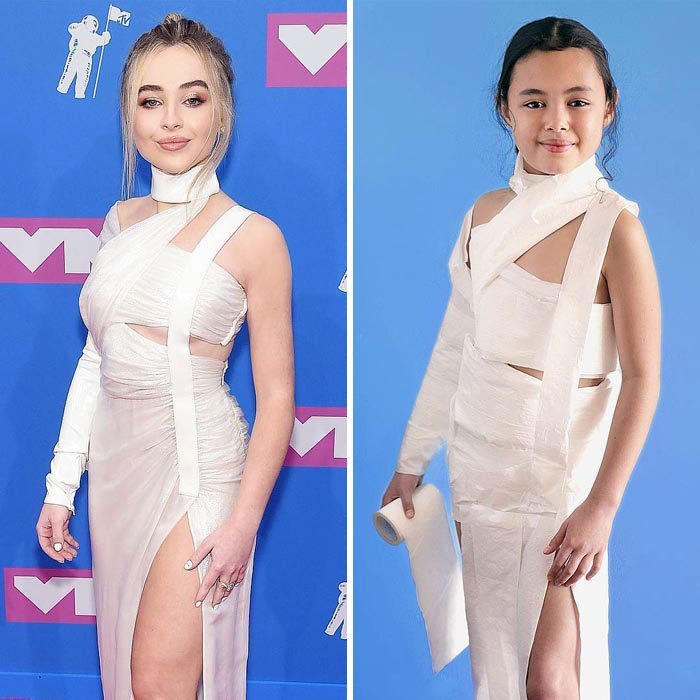 American singer Sabrina Carpenter must have caused a few jaws to drop while wearing this mummy-inspired outfit at the VMAs. Riley proved that you don't need a designer dress to recreate this gown, but you do need at least one roll of toilet paper. We simply love the play on silly fashion, don't you?
The Waffle Dress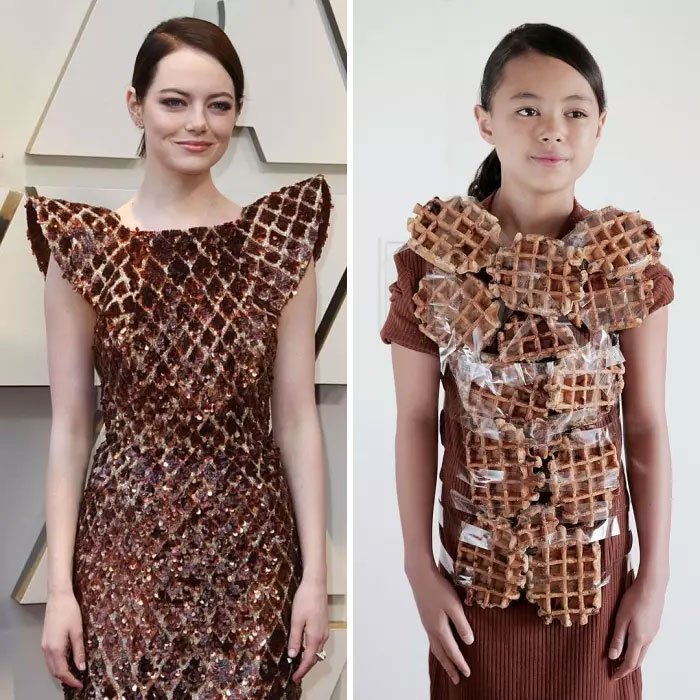 Emma Stone looked like the queen of an insect colony wearing that beehive dress. But Riley one-upped her by recreating the look with waffles and tape. We have to say that the waffle dress looks waffly good to us! But what impressed us more than the costume is her ability to mimic the stances.
Riley is Bizarre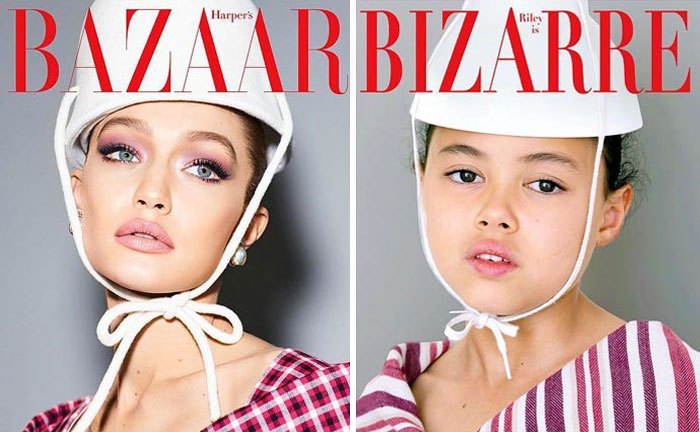 Model Gigi Hadid has beautiful eyes and a sultry stare on the cover of Harper's Bazaar, but she better stand aside because Riley did a really great job in this cosplay recreation. We're rolling on the floor that she called her cover "Riley is Bizarre." Seriously sweetie, you're adorable!
Serial tea drinker. Professional wig snatcher. Content creator and video script writer who may or may not be John Leguizamo's body double. If you don't like where you are, move. You're not a tree.