Have you ever gone to Comic-Con and envied those cosplayers prancing around in their expensive costumes? Well, you can quit being jealous because a cosplay guy named Anucha "Cha" Saengchart has some awesome DIY costumes ideas that are really affordable too. This guy's so creative that he's used just about everything below the ceiling of his home to create some affordable low-cost costumes.
Tasty Abs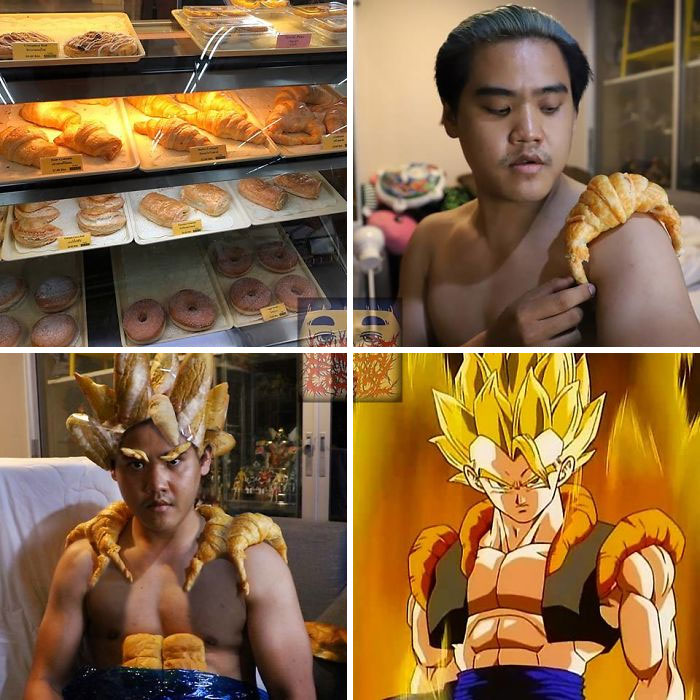 Anucha Saengchart turned himself into an anime character using nothing more than croissants and other types of pastries. Now we're totally hungry. That six-pack is on point, too. We'll bet he had a good feast after he took this photo.
Clever Takes New Form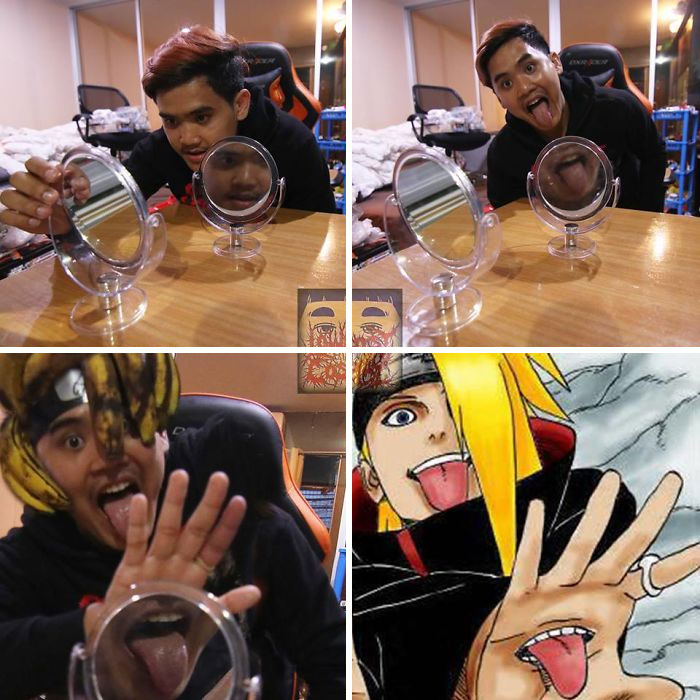 This guy's so dang creative, he even made sure to position his tongue and line up his mouth perfectly in the second mirror too. A total master at angles and cheap creativity!
Great Advert For Durex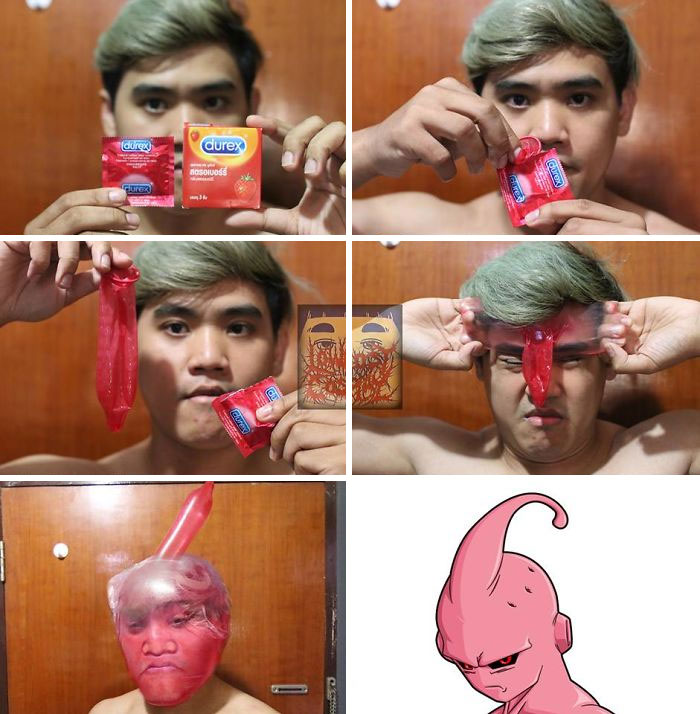 If you're looking to recreate an animated creature with a weird appendage sticking out of its head, try using this popular birth control solution. But you might want to poke two holes once you put this around your head. We honestly don't know how he managed to breathe in this thing, but we seriously don't recommend trying this at home!
Goooooool!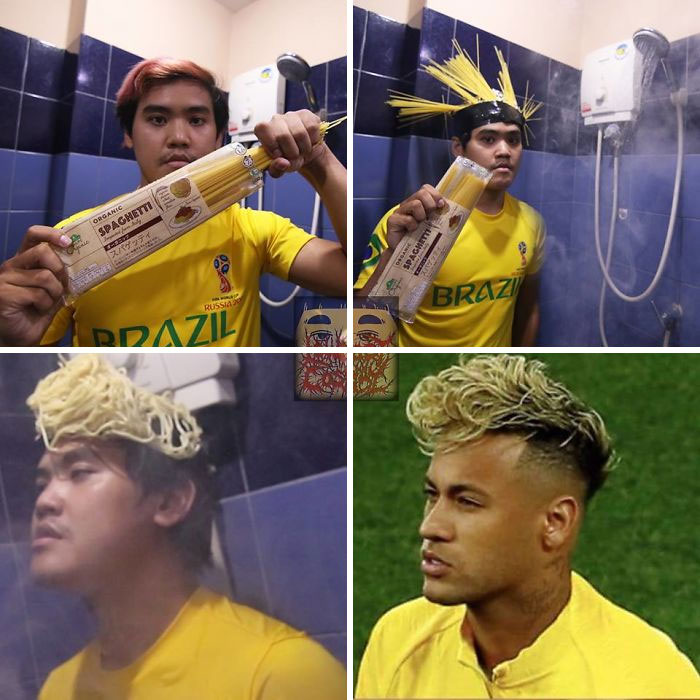 Anucha doesn't need a lot to turn himself into a Brazilian soccer player. All he has to do is simply put on a yellow Brazilian team shirt. Then he secured spaghetti on his head using tape and used a shower to steam his hair into the same gold curly locks as Neymar da Silva Santos.
Go Jurassic Or Go Home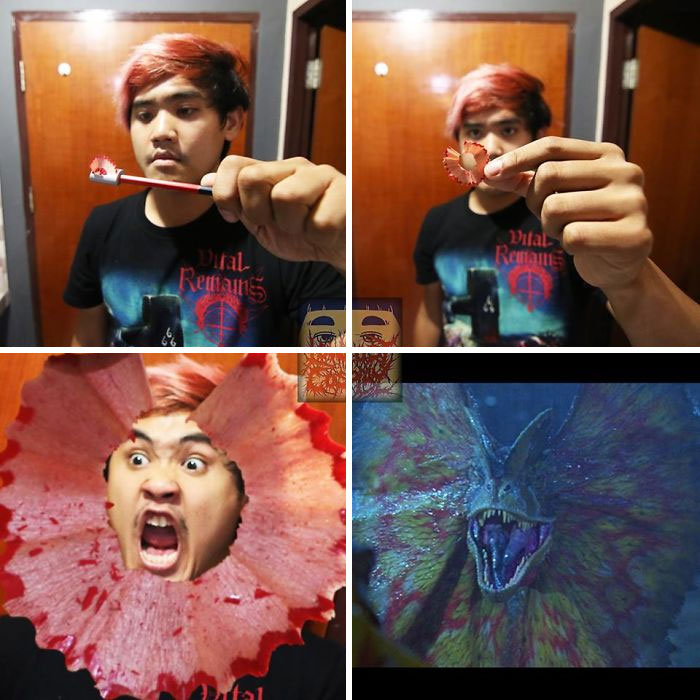 If you want to look like one of the scariest dinosaurs in Jurassic Park, then grab a pencil and one of those plastic sharpeners people buy for their kids. When you have a nearly perfect c-shaped pencil shaving, place it in front of the camera. Now stand in front of the shaving and prepare to roar!
To Infinity And Beyond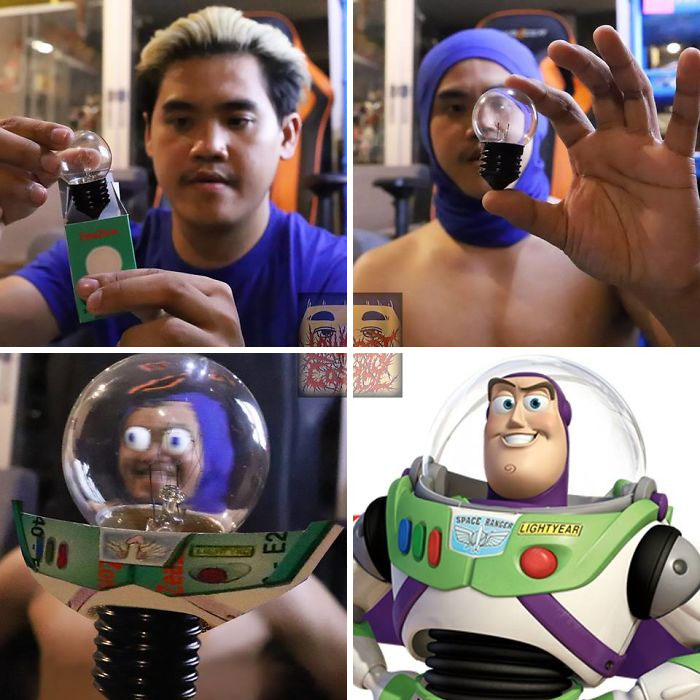 You don't need a full-on costume to become Buzz Lightyear. You can go to infinity and beyond with an optical illusion, like Anucha did. He simply wrapped a purple shirt around his head, ran a light bulb through a cardboard chest plate and then angled the photo so that his head was inside the circle of the bulb. Genius!
Teletubby Background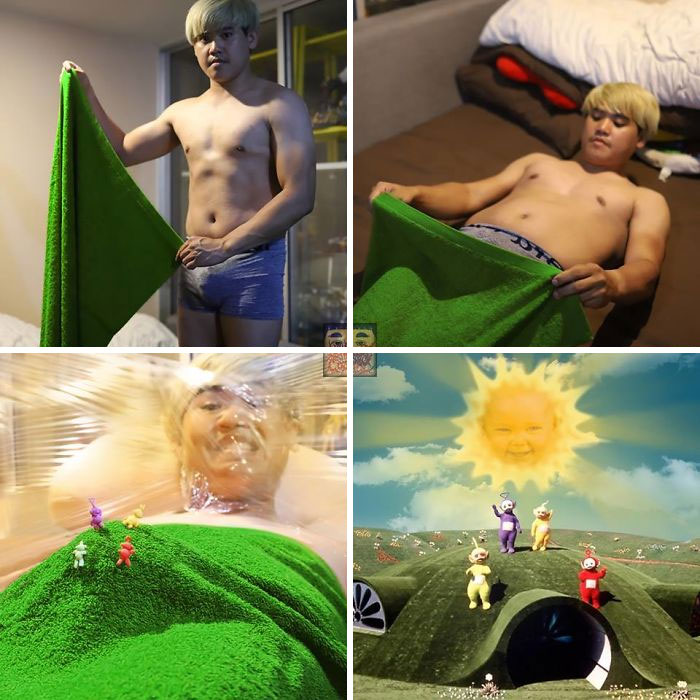 In cosplay, you don't always have to play the main character. Sometimes you can be in the background and still shine. Anucha put a green blanket up to his stomach and a couple of Teletubby figurines on top of the hill. Then he put Saran Wrap in front of him and smiled like the big old sunshine in the background. Genius!
Birdie Foot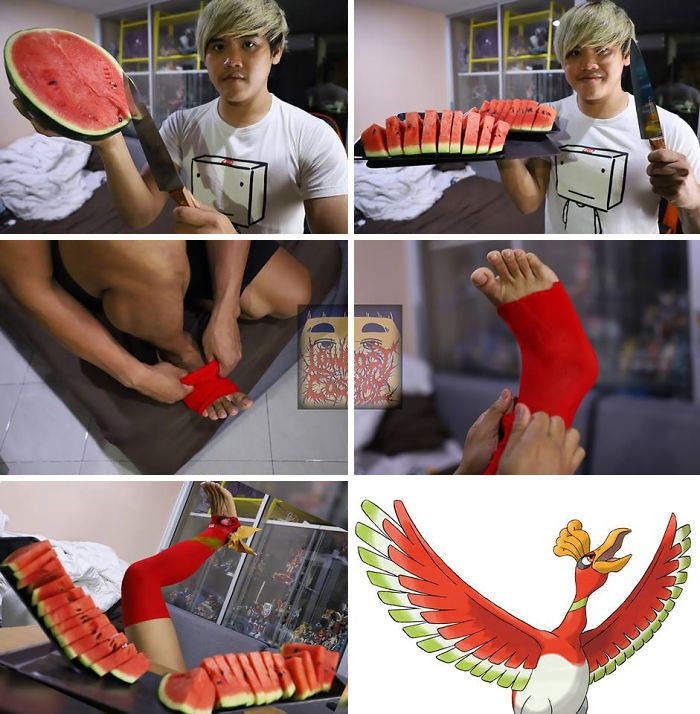 There's no need to cosplay your entire body. You can just cosplay one leg like he did. He slipped one leg into a pair of red leggings and then cut a bunch of watermelons into triangles. At the right angle, he was able to recreate the look of this bird.
Unleash Your Matrix Power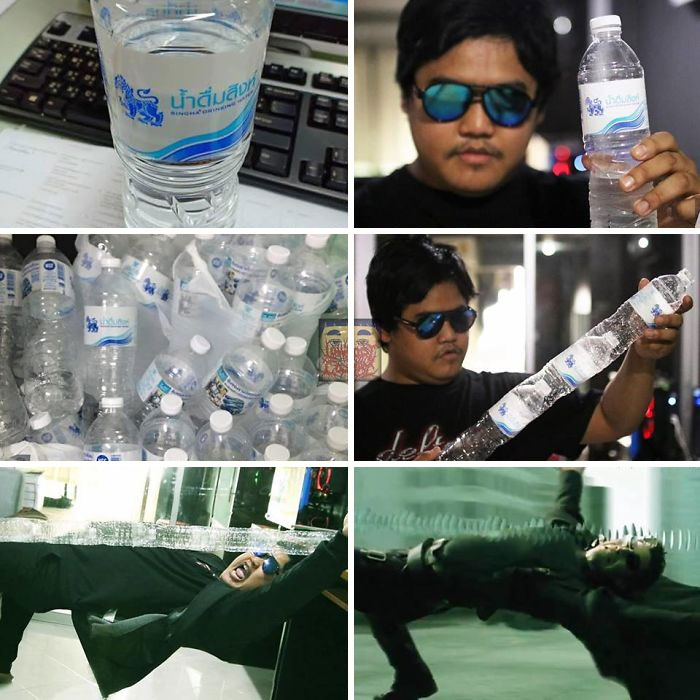 Use a bunch of empty water bottles to recreate that epic scene from "The Matrix" where Neo managed to defy the laws of physics and avoid a bullet in slow motion. Not only is this really clever, but it's a great way to recycle things around the house. Plus, you'll look like a total badass and everyone will think you're the chosen one.
Makeshift Blonde Wig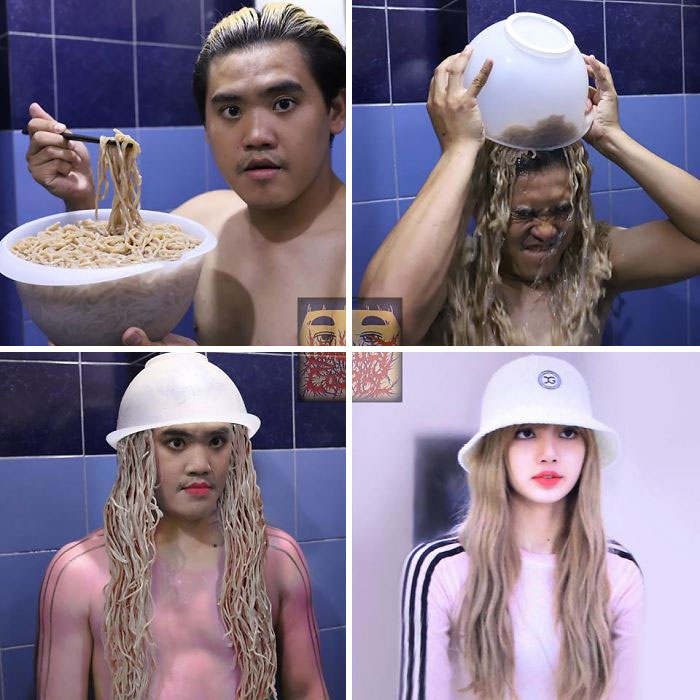 Cheap cosplay guy took it to a whole new unsuspecting level with this one. He makes cosplaying seem like a piece of cake. Although he'd probably grab that piece of cake and turn it into a prop for one of his costumes. His hilarious recreation of this blonde beauty's long blonde locks is too funny for words!
Serial tea drinker. Professional wig snatcher. Content creator and video script writer who may or may not be John Leguizamo's body double. If you don't like where you are, move. You're not a tree.