There's an insanely cool new trend that's gone viral. Women are applying bright eye makeup, accentuating their lips and turning themselves into plastic teenage versions of the oh-so-popular Bratz dolls that became popular in the early 2000s, and then posting the pics with the hashtag #BratzChallenge. Can you tell who the doll is, and who's the human?
The Bratz Who Sparkled
Social media beauty influencers are embracing the Bratz look with lots of makeup, sparkling diamond beads, and a lot of sass. All these gals needed some winged eyeliner and some major makeup techniques to go from human to plastic dolls. Just look at the glossy pout on this beauty. She's impossibly plump just like her Bratz counterpart.
The Resemblance Is Uncanny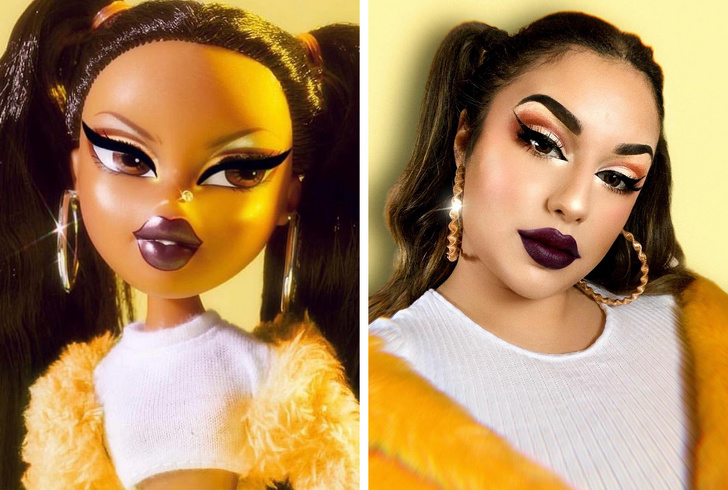 People are doing a great job turning themselves into human versions of Bratz dolls. The resemblance is so eerie. This gal could totally play her plastic twin in a live-action movie or TV series. She's like the living embodiment of her caramel doppelganger.
Mirroring The Look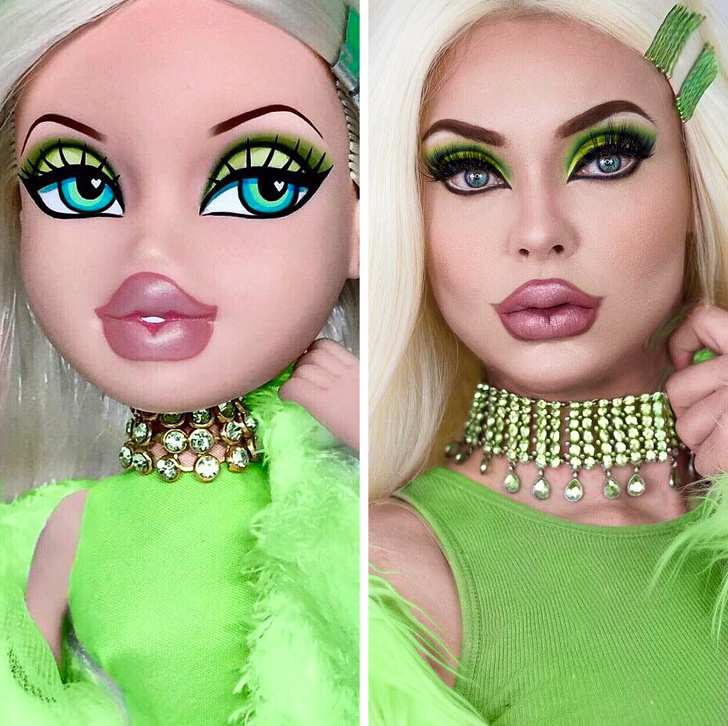 Netizens are pulling out all the stops and using neon cream eyeshadow, contact lenses, and other tricks and techniques to match the look of a particular Bratz doll, like these ginormous red lips. This gorgeous MUA went as far as to match the doll's choker, her hair, and even the emerald color hairpins. She even took it a step further by mirroring the bright clothes too. We stan a doppelganger queen!
She's On Fire!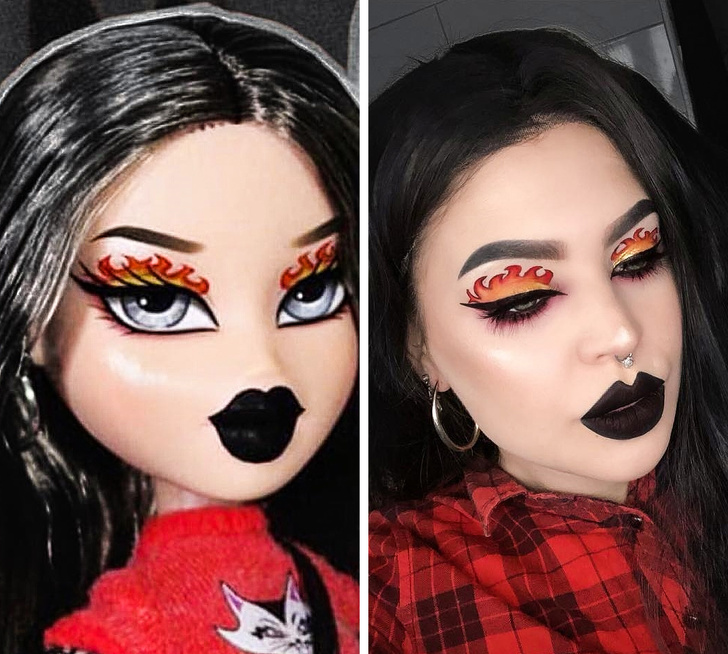 It takes a lot of work and dedication to get every detail just right. This makeup artist recreated the bold black lipstick and overall emo look to a T. Even the flame-inspired eye makeup looks hot! As you can see, she looks nearly identical to the Bratz doll she imitated. This project was a fun way for makeup artists and makeup enthusiasts to show off their skills in a creative way that has now gone viral.
Neon Green Doll
Here's another recreation of a Bratz doll who had a thing for neon green. This talented MUA was serving some #blackgirlmagic, indeed. She used the Anastasia Beverly Hills Prism palette in Sphere and lined her gorgeous eyebrows with the Dipbrow pomade in "Ebony". And yeah, we're taking notes! We would totally wear this to a casual date night!
Perfectly Sculpted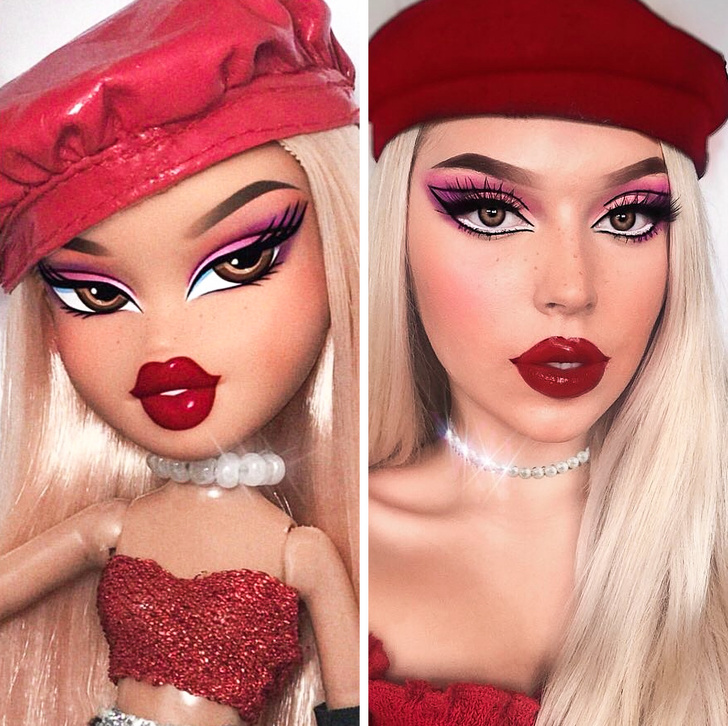 This gorgeous gal must've spent hours crafting that perfect doll-like skin, big doe eyes, and overly drawn thick lips. And we've got to say, it was worth it! She even found a pearl necklace and red top to match her Bratz doll counterpart, and we're in shock!
Bratz Challenge Done Right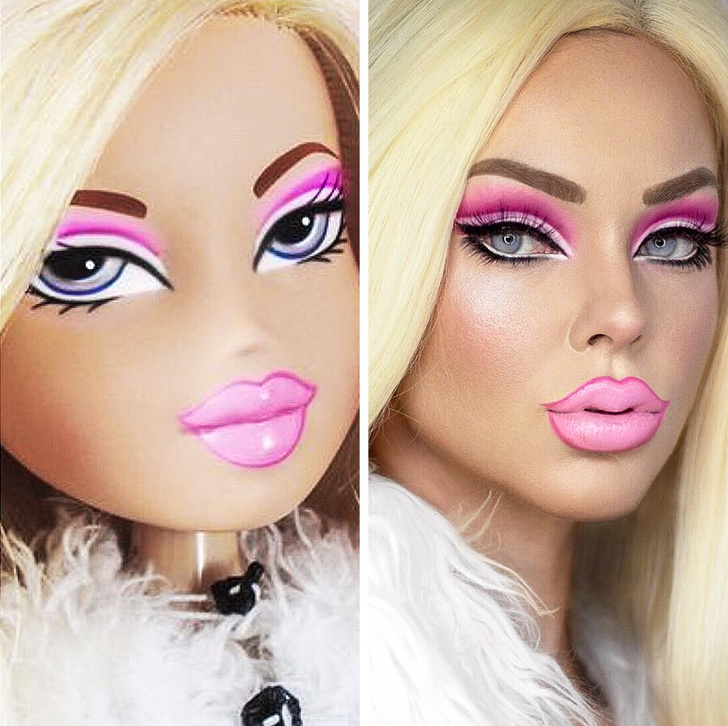 This talented MUA is serving some Barbie realness, even though she's clearly modeling her look after Chloe, the stunning Bratz doll that's all about glam. After seeing so many Bratz doll recreations, we're kind of hoping we run into someone who would show up to the office looking like this.
It's The Perfect Illusion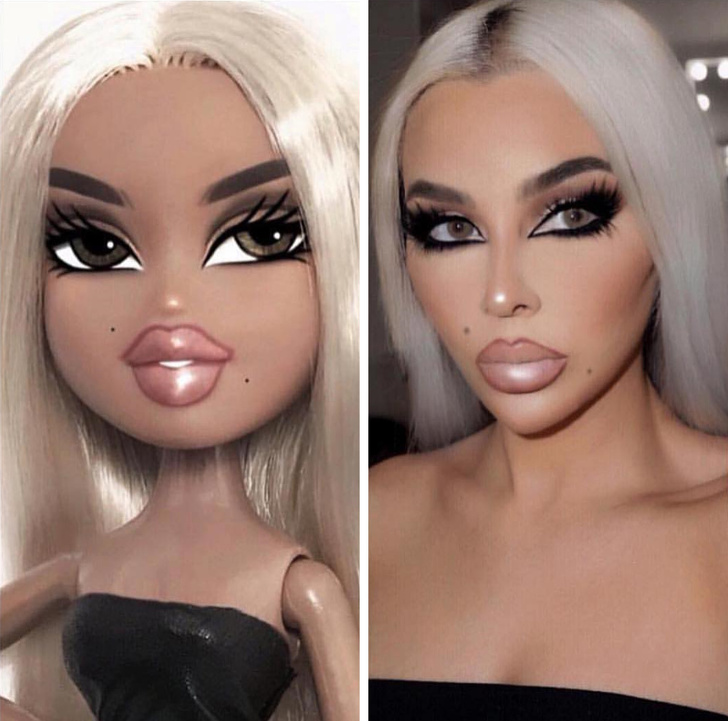 The viral challenge has led to a ton of recreations that are stunning, just like this one. Using makeup, wigs, and contact lenses, these artists have managed to fool us by creating the illusion of doll eyes that are usually larger than human eyes. This Bratz doll recreation in particular is giving us some serious Kardashian vibes. The look is simply mind-blowing! Just look at the way that the skin on her nose and the flesh on her lips glow when the light hits at a certain angle. You'd swear that this gal was made of plastic. But she's all real, baby! This was such an awesome way of honoring the Bratz doll legacy while showing off some impressive makeup skills that obviously knocked everyone's socks off!
Serial tea drinker. Professional wig snatcher. Content creator and video script writer who may or may not be John Leguizamo's body double. If you don't like where you are, move. You're not a tree.